Sports Games By JupiterBounce.com
That will be A Gamechanger For your next event!
Are you looking for sports games to take your event to the next level? Luckily, JupiterBounce.com has a wide variety of sports games to choose from. 
One sports game we offer is our brand new
Field Goal Challenge- The Combine.
This sports game is a great way to generate friendly competition within your event and it is here just in time for the Super Bowl! 
If you are trying to find a way to up the status of your Super Bowl Party, we can't think of a better way than adding the
Field Goal
sports game to your plans. This sports game is also perfect for many ages and demographics, from kids to teens to even adults who want to test out their punting skills. Score a touchdown for your loved ones and book this sports game today!
Swish! Another popular sports game we offer is our Slam Dunk unit. This sports game is awesome to participate in with friends, as there are two separate lanes and nets to score on. That means that in this sports game, two players can compete against each other to see who really is the best Slam Dunker! This sports game is also a great fit for different ages, as its inflatable nature allows players to soar high without worrying about landing on a hard surface. Shoot your shot and make nothin' but net with the Slam Dunk sports game! 
Additionally, a super fun sports game with a twist that JupiterBounce.com provides is our UV Axe Throwing Game! This sports game is unique in that it actually glows in the dark! Test your precision and athleticism within the sports game by seeing how close to the bullseye you can get with your ax!
 Are you looking to have an outside event at night, but also include some sports games? Look no further than our Glow Party Rental Selection—there are many different sports games that are all easily visible in the dark because they glow! For instance, another glow-in-the-dark, super-cool sports game on the JupiterBounce.com website is the UV Mini Golf sports game! This sports game is awesome with its retro, neon pin-ball design. It is even complete with a glow-in-the-dark windmill to really make you feel like you're out on the course! Score a hole-in-one for your mini golf-crazed loved ones and book this sports game today!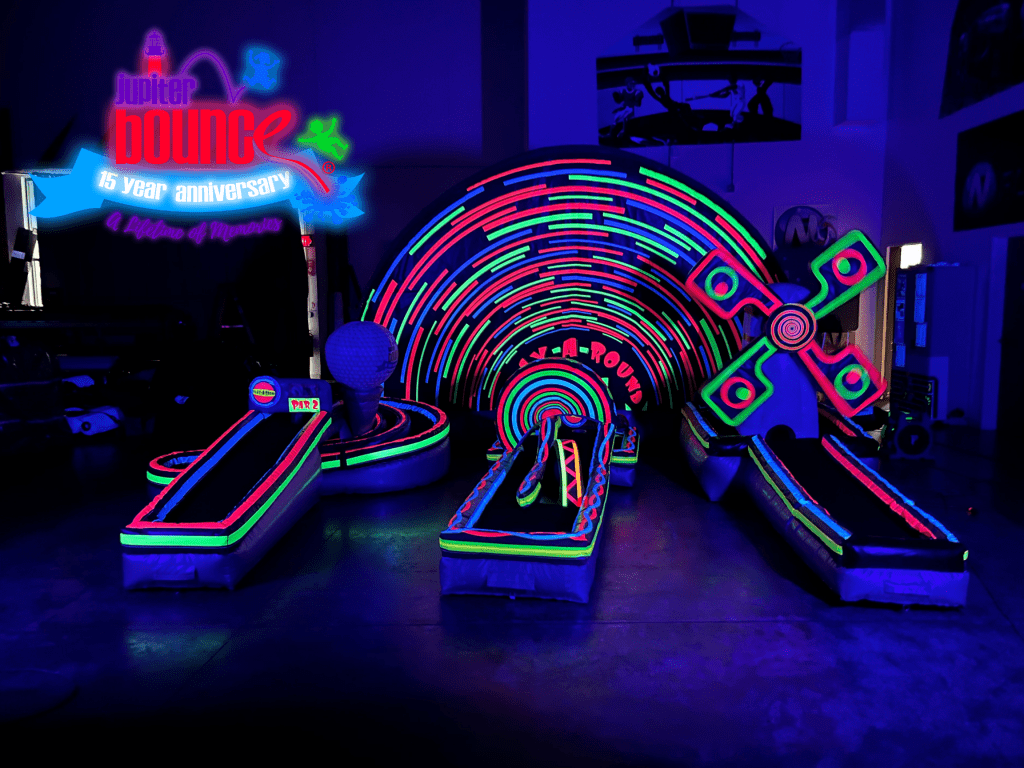 Another sports game guaranteed to LIGHT UP your event is our LED Ping Pong Table Sports Game! This sports game can be the perfect finishing touch for anything from a backyard event to a commercial event! Ages 8 years and older are ideal for this sports game, and we invite you to bring on the friendly competition with your loved ones!
 From 1v1 play to tournament style, there are so many ways to make the LED Ping Pong sports game the heart of your party. 
Another sports game that offers endless fun and entertainment is the 4-in-1 EXTREME Sports Game! This is our largest sports game yet, with FOUR different sports games stacked right next to each other! With the 4-in-1 Sports Game, you can try your hand at soccer, baseball, basketball, AND football if your heart desires! This sports game is superb for a large or diverse event audience, as there is a little something for everyone! OR, if you are looking for a unit similar to the 4-in-1 Sports Game, but one that is more small child friendly, look no further than the Sports Zone 3-in-1 Sports Game! This sports game is divided into three compartments: baseball, basketball, and football. In the baseball and football compartments, players can earn points by throwing the respective sports balls into the holes outlined in the tarps displaying the fields of each sport. In the basketball section of the sports game, players are encouraged to make the basketball into the net. 
Lastly, a JupiterBounce.com unit that is guaranteed to bring sports games and active kids together is the XL Sports Bounce House. This sports games/bounce house crossover isn't like a regular bounce house—it also includes not 1, not 2, but FOUR basketball hoops within its four walls. What could be better for active children to get their energy out than playing sports games WHILE jumping around in a super safe, super fun bounce house? 
Ultimately, if you're looking for a sports game, JupiterBounce.Com has got you covered. From single-sport games, to glow-in-the-dark sports games, to even 4-in-1 sports games, we are dedicated to providing you the competitive edge your event needs.